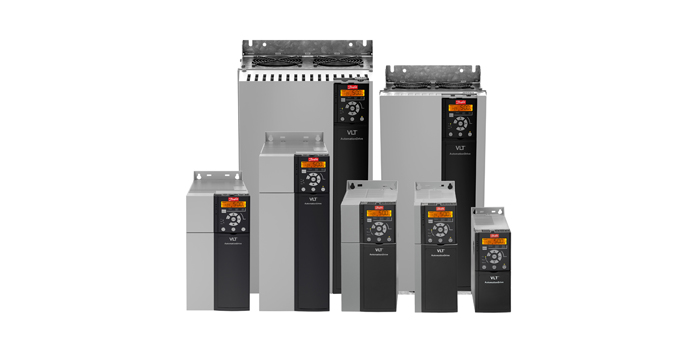 Energy-saving motor control

Danfoss inverter VLT® AutomationDrive FC 360 is a compact and space-saving general-purpose inverter with 5 sizes. It is designed to be easy to use, reliable and flexible. Its comprehensive functions are oriented to various common applications and can provide precise and energy-saving motor control for various industrial applications.
VLT® AutomationDrive can run stably and reliably in harsh environments. The coated PCB is dust-proof, moisture-proof and particle-proof, and the maximum working temperature is 55C. Built-in functional components such as PID controller, EMC filter, DC reactor and 22 kW brake chopper can save cost and installation space. The IP 20 protection level, detachable fan, and enhanced numeric character panel ensure quick setup and simplified maintenance.
Supply voltage and power range
3 x 380 – 480 V 0.37 – 75 kW
Features and advantages
With unique cooling method and coated PCB, it can work stably and reliably in a variety of environments with an ambient temperature of 50°C. With automatic energy optimization function, it can save 5-15% of energy and operating costs. Equipped with a removable cooling fan , Fast cleaning, extended service life Built-in PID controller, no need for external controller, with enhanced digital character panel and application macro selection wizard, quick and easy debugging
Application macro
Pumps, fans, extruders, escalators, winders, material handling devices and centrifugal separators.